Regular price
$159.95 USD
Regular price
$189.95 USD
Sale price
$159.95 USD
Unit price
 per 
Sale
Sold out
VI PRO Ultra Quiet Percussion Massager - Includes Multiple Heads and Free Hard Travel Case
✅ POWERFUL, LOW NOISE FULL BODY RELIEF - Experience total body relief in the comfort of your own home. The powerful percussion massager heads knead directly into large knots and sore spots to loosen them while stimulating blood flow. This not only feels amazing, but it helps speed up recovery and reduce inflammation.

✅ UNRIVALED CONVENIENCE - Stop spending hours waiting at the chiropractor or massage therapist's office. Stop spending hundreds (or thousands!) a month on treatment. Our cordless charger is battery operated so you can use it in any room of your home, and easily reach everybody part that needs relief.

✅ PROFESSIONAL GRADE - Don't be fooled by imitators! Our professional percussive massage gun (percussive therapy device) has 5 variable speed options including a high 3300 rpm setting. At these high ultra-effective settings the self massage gun creates some noise from the vibration. The result is deep satisfying relief that really works!

✅ PORTABLE TRAVEL CASE - Your need for recovery and relief doesn't stop just because you travel. Everything comes expertly packaged in a durable lightweight carry case with organization foam sections to protect each component. Massage tired feet while traveling or melt away aches, pains and knots.

✅ 100% MONEY BACK GUARANTEE - We are confident that you'll love the fast satisfying relief our cordless massage gun. Each self massage gun is backed by a 30-Day Money Back Guarantee and a full 1 year warranty. Join thousands of athletes and everyday folks who love their newfound relief...Click Add-to-Cart Today!
Professional Massages without the Noise with our Best Self Massage Tool

Do you need a professional percussive massager to get deep tissue massages and stimulate blood flow before and after athletic workouts?
Are you tired of the insane noise levels of most electric massage guns?
The brand new VI PRO Percussion Massager (Percussive Therapy Device) is extremely quiet without sacrificing any power or deep tissue capabilities.
The VI PRO self massage tool can be successfully applied to tired and sore muscles all over your body with 4 easy to adjust percussive massage heads.
High Speed
The special brushless motor is what allows for ultra quiet massage therapy, while still maintain 5 adjustable speeds.
The high speed motor creates between 1400 and 3200 strokes per minute depending on your speed setting.
Swap out the different percussive heads to create a completely customizable and comfortable massage experience anytime you wish!
Practical & Easy to Use
An angled 15 degree massage head allows you to hold your best percussion massager (self massage tool) comfortably and still reach all areas of your body including your neck, spine, back, arms, chest, legs and feet.
Enjoy a professional grade percussive therapy device that is convenient and easy to use on a daily basis.
Video Instructions
In addition to a physical instruction manual and online eBook, we've created easy to follow video instructions to show you exactly how to use your VI PRO Percussion Massager (Percussive Therapy Device) for best results and better muscle warmup or muscle recovery.
Join thousands of healthy and pain free customers Click Add-to-Cart to order your VI PRO Percussion Massage Gun (Self Massage Tool) Today!
View full details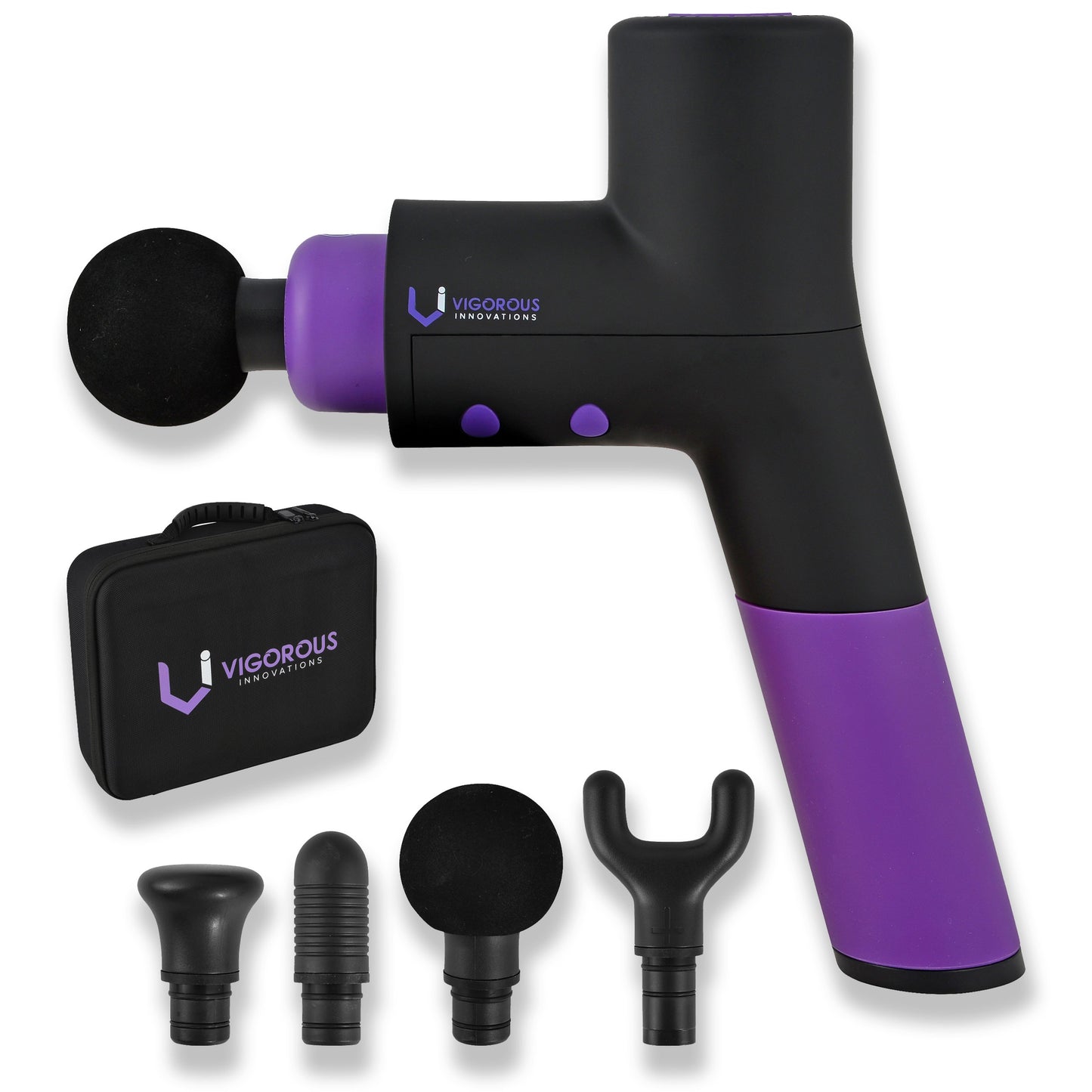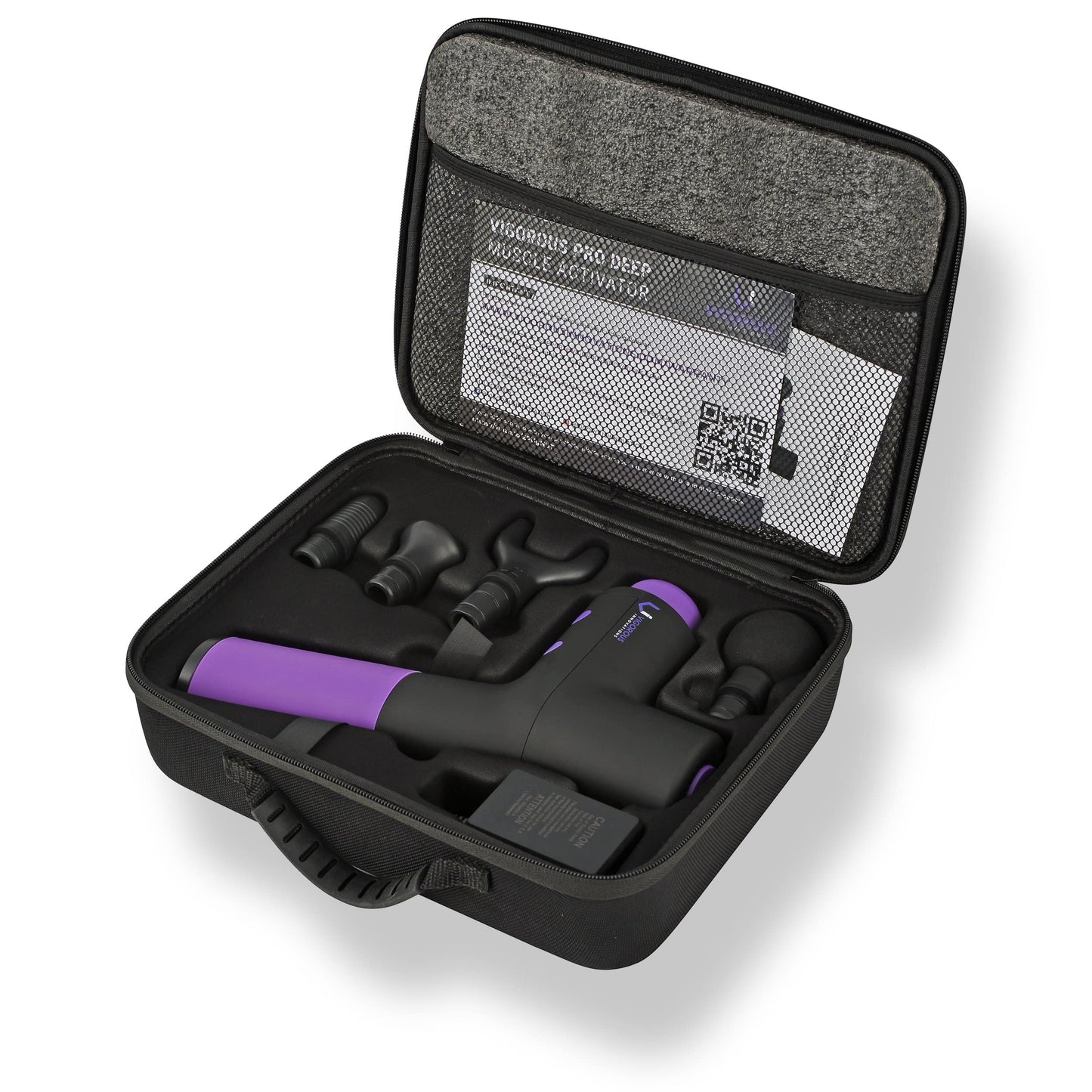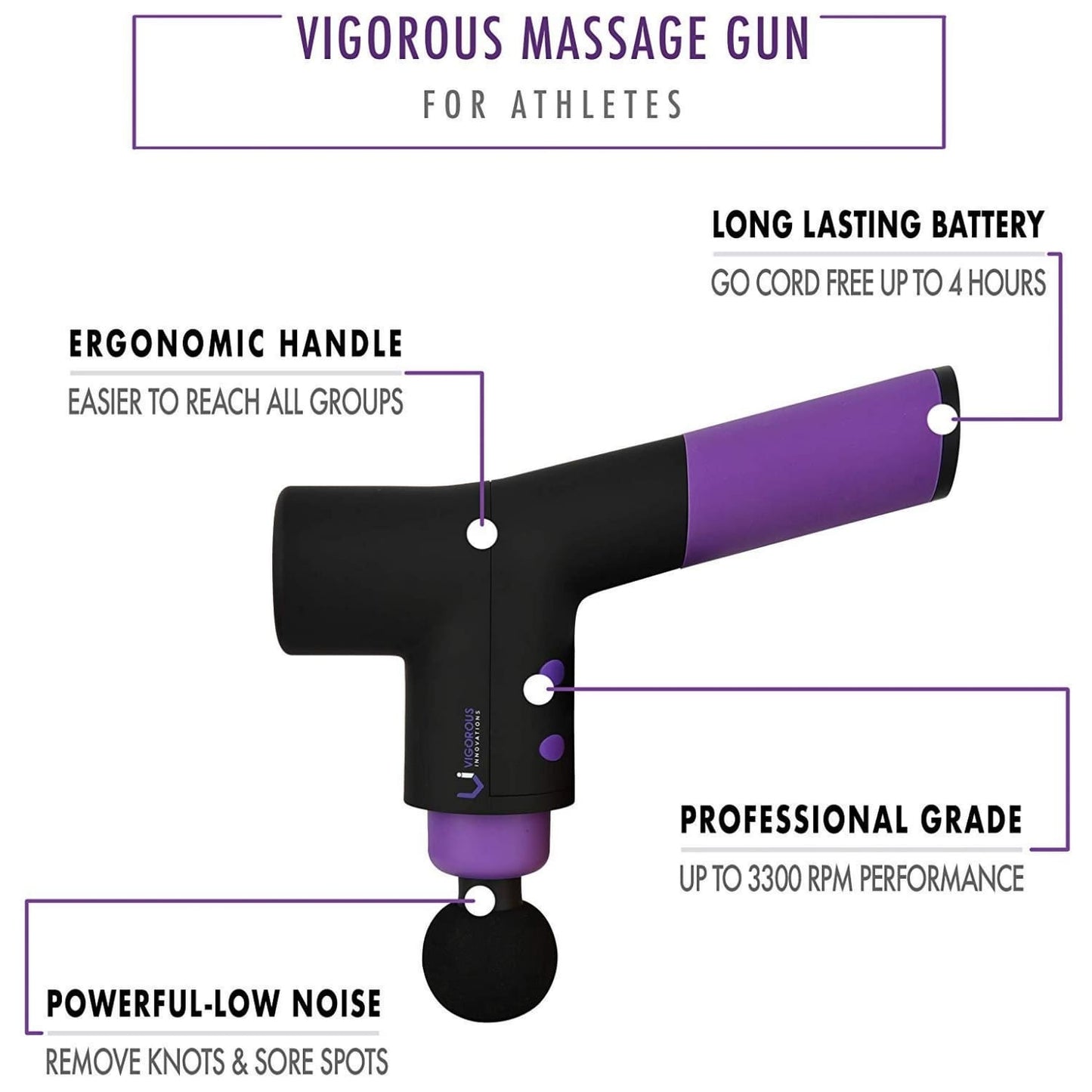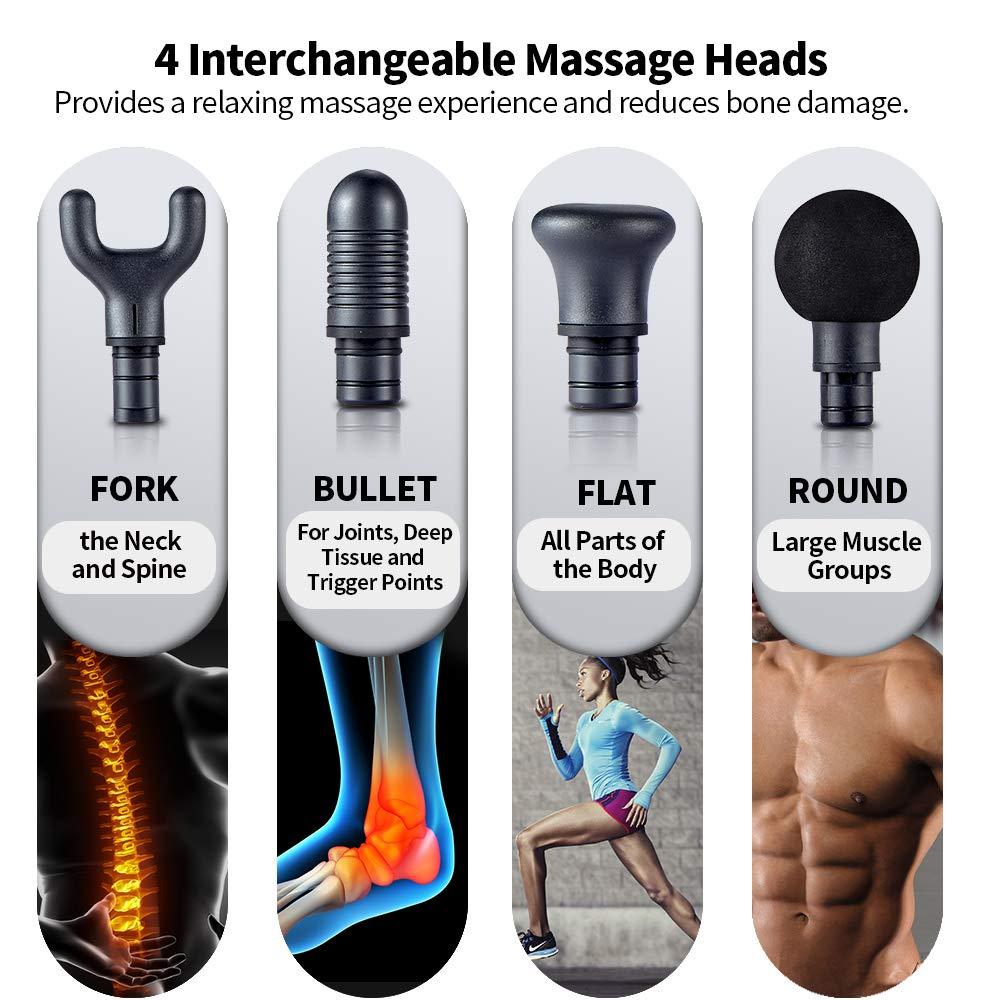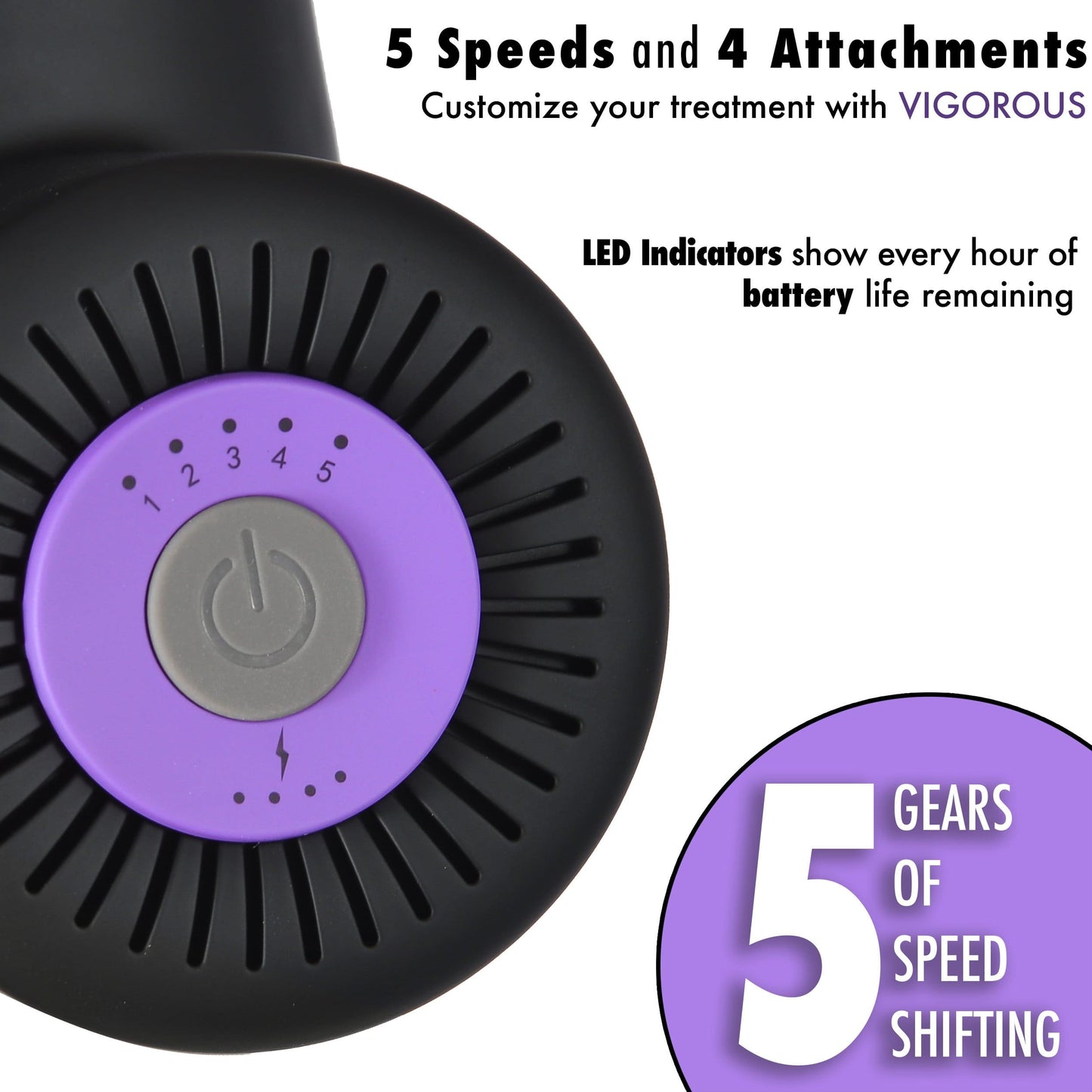 Customer Reviews
POWERFUL YET QUIET! A GREAT BUY
We have enjoyed our Pro Ultra for a few years now. Unbelievable how long the battery life is on just an overnight charge. Plus, the quiet operation of the massager is so quiet even at high speeds it's amazing. Everyone we have given this as a gift is absolutely grateful. Which means we've purchased 5 of these units for friends and family. That is well worth it because everyone enjoys it very much and is very impressed at the quietness of the unit. Definitely a 2 thumbs up likeability.. .